Lutheran Children's Home
Remembering the Andover Children's Home

A large part of our church's legacy is the Lutheran Children's Home. From 1867 to 1970, the orphanage touched countless lives of the children who lived there, as well as employees, administrators and supporting members of the Augustana Church of Andover, and the surrounding area. The Lutheran Children's Home led to the formation of LSSI (Lutheran Social Services of Illinois). On October 15th, 2017, we celebrated the 150th Anniversary of LSSI…See video Transforming Lives for 150 Years.
Although numerous documents have been collected and organized, there are some information gaps, and no real composite summary of the Home's history exists. If there are any corrections or additions, or if anyone wishes to review the church's documents about the Lutheran Children's Home, please email Aug.Luth.Andover@gmail.com.  The following timeline was constructed from several documents:
Timeline of Andover Children's Home
| | |
| --- | --- |
| Date | Event |
| | |
| June 15, 1863 | At the fourth annual Augustana Synod Convention in Chicago, Synod members, mostly Swedish immigrants, voted to establish an orphanage. |
| | |
| June 1864 | By the next Augustana Synod Convention, $1,800 was raised for the orphanage and farm. Before a suitable site was found, a cholera epidemic intensified the need. |
| | |
| October 31, 1867 | First Lutheran charitable institution in Illinois and one of the earliest in the nation opened in Berlin (now Swedona), Illinois. Mr. & Mrs. L.P, Lindell served as first Superintendent and Matron. Edward Berg of Galesburg was the first child received. However, the Board of Directors was concerned that the site had no farm land. |
| | |
| April 1870 | Reverend Jonas Swenson purchased buildings and a 160 acre farm southwest of Andover for the orphanage site. Cost of the purchase was $5,150. |
| | |
| Spring 1871 | Twenty-three children moved to their new home in Andover. Additional farmland, timber, outbuildings, and barns would be added in ensuing years. |
| | |
| 1885 | Link to The History of Andover Township – The Orphans Home was written and later transcribed by Susie Martin-Rott.. |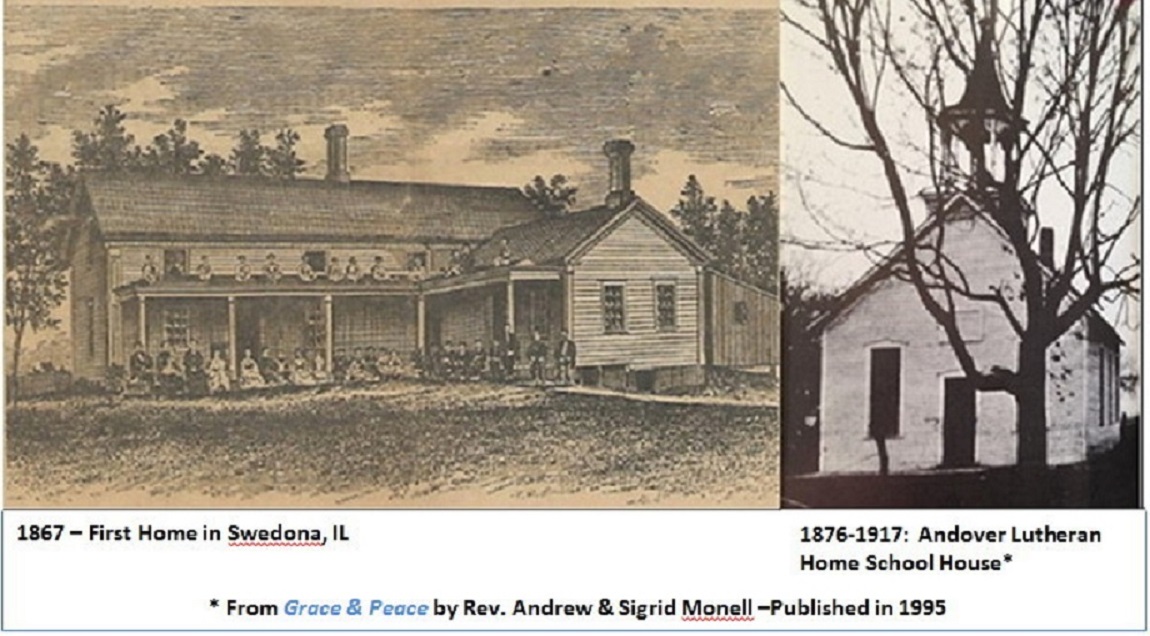 | | |
| --- | --- |
| Date | Event |
| | |
| 1902 | A new wing was added, doubling the capacity of the Home. |
| | |
| December 27, 1908 | Fire destroyed the Home while all the children were at a Christmas Program at Augustana Lutheran Church. Area families welcomed the displaced children into their homes, and many children did not return after the Home was rebuilt |
| | |
| February 1910 | Children returned to the rebuilt Home, a large brick structure. (Picture @ beginning of this page) |
| | |
| 1919 | Electricity was added to the Home. |
| | |
| 1930 | Link to 1930 Andover Children's Homes Census |
| | |
| 1931 | Augustana Professor Peter W. Benzen named Superintendent. He served in this capacity through the Depression and War Years. |
| | |
| 1945 | Edmund O. Rausch becomes Home Superintendent. Home property now consists of 480 acres, 260 acres tillable farm ground and 220 acres of timber. |
| | |
| 1950 | Ground breaking ceremony conducted for Brissman Hall, named after Oscar M. Brissman, governing board member, and one time employee of the Home. On the same day, Doris (Swedman) Brodd marries Duane Brodd. Duane was a school teacher in Andover, while Doris was head Matron at the Home. Their reception was at the  Home during the ground breaking ceremony where a newspaper photo shows Doris turning over the first shovel full of dirt in her wedding dress. That's dedication! |
| | |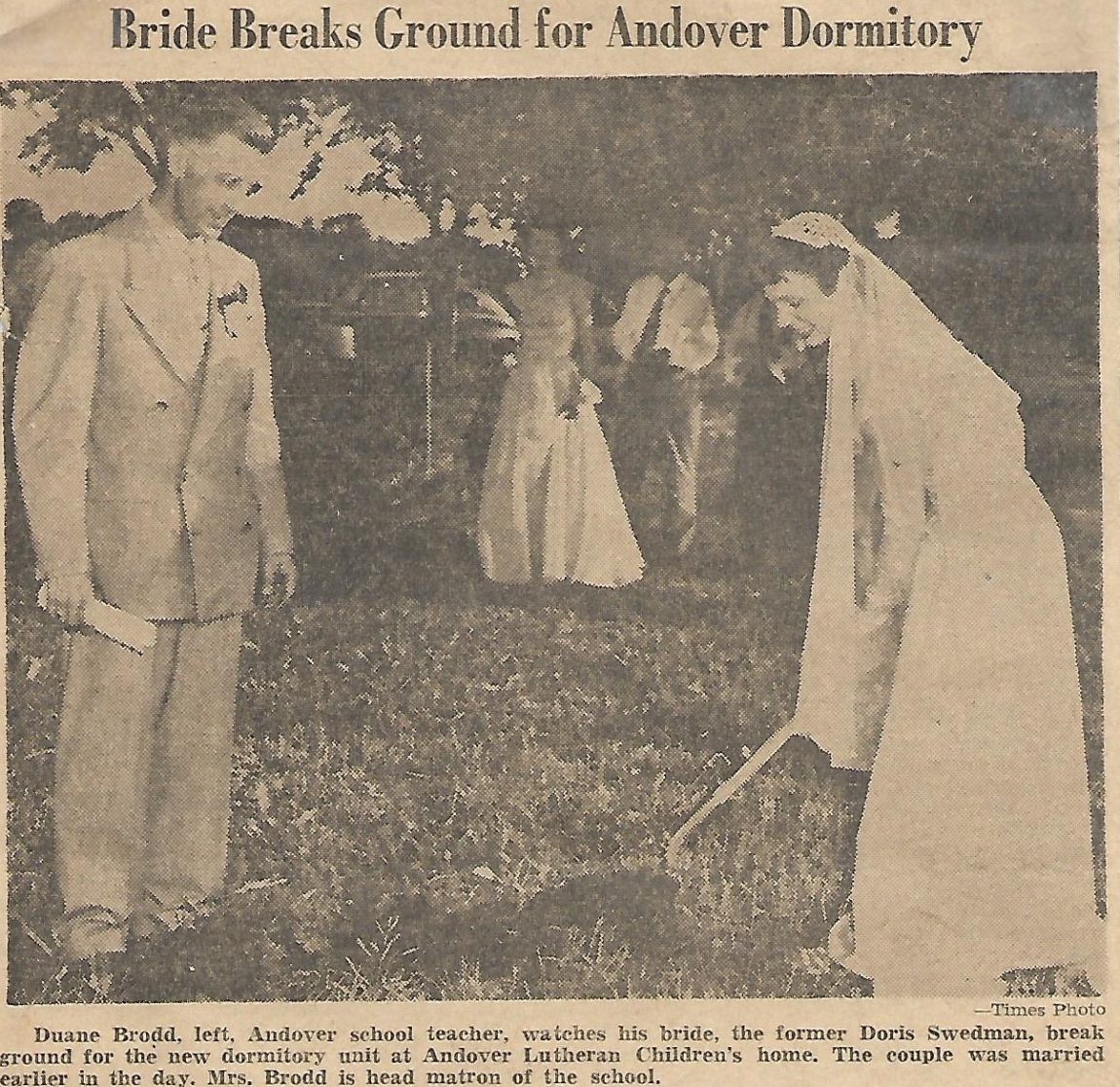 | | |
| --- | --- |
| Date | Event |
| | |
| 26-Aug-51 | Brissman Hall is dedicated, and becomes the girl's dormitory. The Main Building has the boy's dorm, dining hall, and administrative offices. |
| | |
| 1954 | Herman Turner serves as Home Superintendent during this time. |
| | |
| 1955 | Duane Brodd is named the Home's Superintendent, a position he would hold throughout the remaining life of the Home. |
| | |
| 30-Jun-70 | Lutheran Children's Home of Andover is closed. Child welfare philosophies shifted over the years. While orphans were the early residents, later residents were dependent, neglected, or abused children. Child care became more specialized, and a decision was made to consolidate the Andover Home with Nachusa Lutheran Home. |
| | |
| 23-Feb-71 | Decision made to use the facility as a retreat, conference, and camping center for church groups of all denominations, as well as civic and community groups. Duane Brodd remained as Superintendent of the retreat. |
| | |
| 1977 | Retreat Center closes due to financial difficulties, and the property sold. |
| | |
| 1981 | Proposal is made to use the property as the Gateway Rehabilitation Center, but a controversy ensued as area residents objected to addiction cases being interjected into a rural community unaccustomed with such issues. |
| | |
| 1990 | Buildings were torn down. |
| | |
| 2004 | Land was sold at auction. |
Memories from our Congregation
Dorothy Norberg – Lived at Home from 1946-59
 
In May 1946, I was five years old when I went to the Andover Children's Home. My sister Mildred (6 ½ yrs.) and brothers Harold (9 yrs.) & Rich (10 yrs.) also was placed at the home.

In the old bldg. – one side was for girls and the other side for boys. We had chores at the home to do.

Gladys Stewart was the boy's house mother and her daughter Judy stayed and we became the best of friends.

On Halloween they (Children's Home) had the best parties for the children.

I only stayed until I was 13 years old and was adopted by a very loving Christian couple who were members of our church. They were Sig & Alice Engstrom. I was so lucky to have loving parents.

1946 picture to the left shows Dorothy's sister Mildred (7) and Dorothy (5). After adoption, Mildred's name was changed to Jean.  

See the video of Dorothy's comments from LSSI 150th Anniversary Celebration 10/15/17
Elaine Lestor – Wife of Pastor Albert Lestor, Augustana Lutheran's Pastor, 1970-80
After the Home became a retreat in 1971, Augustana College Chaplian Richard (Swanie) Swanson enjoyed many visits to the retreat. He also would serve on the Jenny Lind Board and was instrumental in not only the restoration of the Jenny Lind Chapel, but the creation of a long standing event at our church. In early December 1971, Swanie went for a walk with 10-12 Augie students from the Retreat Center to the Jenny Lind Chapel. Noticing the lights on because of a LCW meeting underway, Swanie's group entered the Chapel for an impromptu worship ceremony. This started our annual Joy of Christmas service featuring musical performances from busloads of Augie students. Joy of Christmas has continued every year since Swanie's walk.
Mary Anne Lovdahl – Office Secretary, 1951-57
The beginning of Lutheran Social Services, over 100 years ago, was in the country near Andover. There was a need for a Home for Orphans. Many families lost a parent to some form of epidemic. Children needed care and the remaining parent (often the father) was trying to earn money for everyone's survival. The Orphans Home provided daily care as a family. The parent usually walked on Sunday to see his or her children. Names changed as times changed from Children's Home to Lutheran Home for Children and Farm School.
Augustana Lutheran Church (present name) and surrounding community helped in many ways to care for this large family, along with the staff. When federal and state requirement changes were made, the facility in its location was closed in the '70's. Lutheran Social Services is still caring for those in need, children and adults that need help.
Mary Anne was Office Secretary for three Superintendents: Hugh Peterson, Herman Turner and Duane Brodd. She recalls that life at the Home "was never boring."
See the video of Mary Anne's comments from LSSI 150th Anniversary Celebration 10/15/17
Loran Anderson – Farm Manager, 1959-61
Loran met his wife while working at the Home. Karen (Jacobs) Anderson was Office Secretary at the time. Loran was succeeded as Farm Manager by his brother Rodney. Loran recalls teaching one of the boys how to drive the Home's truck. Immediately after, the boy made an 'unauthorized' trip to Galesburg. Loran also remembers a Vietnamese family that lived at the Home that spoke no English. Loran learned that the father's biggest fear was protecting his family from the tigers in the Home's timber.
See the video of Loran's comments from LSSI 150th Anniversary Celebration 10/15/17
Ron Peterson – Church Historian
See the video of Ron's comments, closing comments from Pastor Reed Pedersen, Eilene Peterseon and other members from LSSI 150th Anniversary Celebration 10/15/17